Hey My Road to Mrs friends!!!
If you're not a follower of Truly Lovely, mine and my sister's 'all things lovely' blog...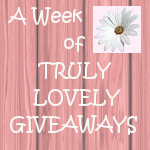 TODAY starts a WEEK of TRULY LOVELY GIVEAWAYS
in celebration of us reaching 200+ followers over there!
There are some FANTASTIC items up for grabs!!!
Including items from these LOVELIES!!!