If you haven't already, go here to get entered in the Truly Lovely Week of Giveaways going on!!! There's some fun stuff up for grabs!!!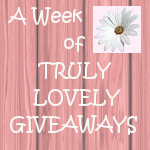 Here are a few things that we've accomplished over this last week!!
I shared the link where the mommas of the ring bearers can purchase their boys' shirts for the wedding day. We decided on these turquoise western shirts from Rods.com. They'll wear these, blue jeans and cowboy boots.

Thanks to the father of the bride, we have our officiant all lined up! We are both LDS so we will be having an LDS bishop officiate. We'd been debating on asking Mr. M's bishop from his home ward, or the Stake President from his stake, or the bishop from my home ward. And thanks to my awesome dad, who called and asked for us, we will have the bishop from my home ward officiating for us!

I have e-mailed guest lists to two bridesmaids. One for a Lingerie Party in my college town in May!!! YAY!!! And one for a bridal shower in Mr. M's home town on April 30th! YAY!!! I'm so, so excited about those!! AND a HUGE thanks to the girls' for throwing them for me in advance!!!

My AMAZING mother found a friend that coincidentally makes wedding cakes who's offered to make ours for our wedding gift!!! THANKS MOM and the FRIEND!!!
So, I need to call her (the friend) to talk about what we'd like now! :)

I have the "packaging" for my girls' gifts ALMOST finished!! I'm stalled right now because I ran out of ribbon and they were out at the store... So until I can get some more, that one will wait... But SO CLOSE!

Speaking of their gifts... The BIG part of those is almost finished as well... All I have left are the finishing touches on the last two! :) AND my sweet, sweet friend Bethani offered to make up some sample tags for their gifts, and give them to me for a wedding present!!! Can't wait to see what she comes up with!!! THANKS GIRL!!! :)
Go here, check out her stuff!! She's AWESOME!!!



Remember I mentioned a boot announcement on Wednesday? Well I've decided to wear boots under my wedding dress! Cowboy boots! And I think I've found THE ones! What better excuse to get NEW boots, right? I'll share those soon!

Well... That was a lot... Enough for now anyway. haha!!
How's wedding planning coming for all my soon to be married readers?
Any wedding planning tips anyone wants to share at this stage in the game?? :)
What shoes did you or will you wear for your wedding day??
I'm still planning a wedding advice linky where you write up an advice post on marriage, relationships, etc. Link it up here and at Truly Lovely and I'll feature some! :)
So watch for that to come soon!
Til then, have a lovely Friday friends!!