This last weekend Mr. M and I went to town... In the process we decided, or maybe I decided, and then goaded Mr. M., to go look at wedding rings.
We already have an idea of what to get for him, but we had no idea what size.
I have it my head that the solitaire enhancers are the most beautiful, in my opinion, wedding rings, and so I think I need one of those... :) Like this one shown here...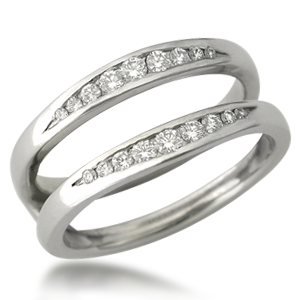 Wedding Ring Enhancer (solitaire engagement ring fits down inside).
Source
.
Other than that... We're clueless.
Which got me to thinking... Why wedding rings in the first place? And why the "ring finger"?



Shouldn't you know this kind of thing before you commit a huge amount of money to something... So that sent me on a wedding ring knowledge quest.
I've discovered some very interesting things pertaining to this topic since...
1) Wedding ring significance?
The wedding ring is in the shape of a circle, the circle, which is never ending symbolizes the never ending commitment the couple is making to one another.
There is no beginning and there is no end.
(I really like that word when it comes to the symbolism related to marriage!)
2) Why the "ring finger"?
This tradition is believed to have began with the Romans. They believed that the ring finger on your left hand was directly connected to the heart, through the "vein of love".
This makes sense, right? Wear the ring signifying your commitment to someone on the finger that is connected to your heart... Aw love.
3) Why wedding rings?
There are many different stories pertaining to the initial use of wedding rings, but some believe it began with ancient Egyptians who believed the circle symbolized eternity and the giving and receiving of rings symbolized an eternal love.
To the Romans, a gold ring symbolizes purity. An Irish superstition states that the ring must be made of gold or it's bad luck for the couple.
The Italians seem to be the first to have used diamonds in their wedding bands, believing that they were created from the flames of love.
The men in my life have mixed feelings on wedding rings... wear them, or not?
My dad has a wedding band, of course... but in his profession, it's a safety hazard that may get caught on something, or easily lost. So he almost never wears his. Then there are guys like one of my future brother-in-laws who wears his all the time.
Mr. M is worried that it will bother him, because the guy NEVER wears anything resembling jewelry. (Except for a cross on a chain that I bought him last Christmas with his mother's name engraved on the back.) So in reality, it might be uncomfortable for awhile. But I think he'll get used to it.... I guess we'll see.
In the meantime, I think Mr. M is leaning towards something like this...
Silver, or white gold, simple.
While I'm leaning towards something like this...
And yes, that's my same engagement ring shown. 
Solitaire enhancer, white gold, to match my engagement ring.
Or perhaps something simpler... like this...
And no, that's not my exact engagement ring, but it does fit, quite nicely.
Once again, thank you to Kay's Jewelers, whom I'm pretty sure we'll purchase our rings from since that's where Mr. M bought my engagement ring... They have a beautiful selection BTW! But this is a commitment that deserves a little more thought...
Once we decide for sure, I'll let you know! :)
Until then... Does your hubby or hubs to be wear, or think he'll wear, his wedding ring often? How did you convince him it was important?
Any comments on our leaning towards choices?? :)