Since we FINALLY seem to have sent out all of our wedding invitations, it won't be spoiling it for any of the receivers to share them with you all here on the blog now... :)

I work next door to a print shop... I think I may have mentioned this before...
But my boss and his family dabble in a little bit of everything.
I actually sell accounting software, in the back office of their print/copy shop!
So it was EASY to decide where to get our invitations printed!!

I always wanted something simple. Just a card, with LOTS of pictures.
I simply took her our CD of engagement photos, told her an idea of what I wanted and our wedding colors and in a day or two she brought me several options!
I looked them over, decided which one was my favorite, then took them to Mr. M.
Surprisingly he chose the same one!
So, for your viewing pleasure... haha.
Here is the front of our invite!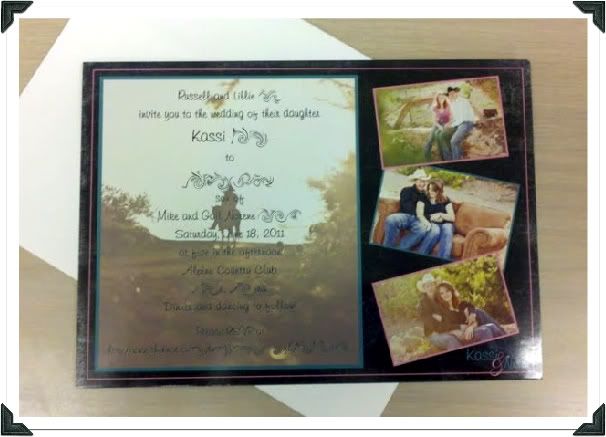 Excuse the squiggles... Still trying to protect at least a shred of personal information. :)
*Even though I've slipped and mentioned my fiance's first name a time or two... haha. Oh well.
I LOVED that the background sort of looks like distressed black denim.
I also LOVED how she placed the wording over the photo of us riding. :)
And here's the back.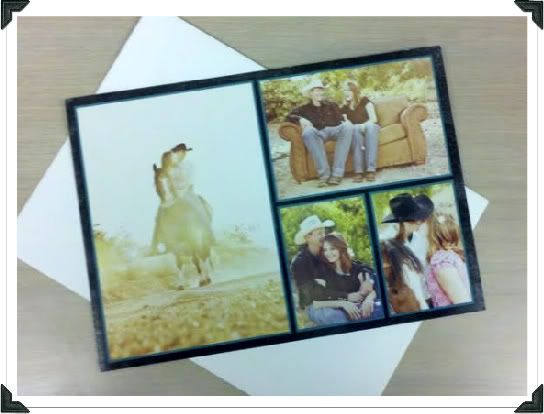 The envelopes we chose were the classier plain white ones. We didn't want to spend too much on envelopes because they just get thrown away after they're opened...
But we didn't want them to be see through either...
Debi even printed the addresses and our return address on the envelopes for us!
They have a new printer that does it so easy! She just used the same font that is on the invites and they looked really nice!
Plus it saved me SO much time not having to hand write the envelopes!
Instead of paying for RSVP cards and the postage to have them sent back...
Which can add up SO quickly...
We just included a line at the bottom that said,
"Please RSVP at www.ourweddingwebsite.com...."
We aren't doing a plated sit down dinner or escort cards, so RSVP's weren't that important to us. The RSVP on the website will give us an idea of how much food to have and chairs, and that's really all we needed! Saved us a bundle! :)
So... What do you think???
Did you/will you do RSVP cards? Were they important for your day?
Other ideas for handling RSVPs?