Remember a few weeks ago, I was asked to review an item from CSN Stores?
I posted about that here.
Well, here is my review... Including some interesting pictures... :)
AND a Honey Do Tip from me to you!!
The hardest part of the entire online ordering process was deciding what item to choose!
I finally decided on the Honey Can Do - Double Resin Hamper for my review item.
We'd been needing a nice hamper, desperately... I'll show you why shortly...
This one from CSN Stores looked like it would fit the bill!
The ordering process was streamlined and easy!
You can pay quickly using a credit card or Paypal account.
I received a conformation e-mail once the order was placed, as well as an e-mail notification when the item was shipped.
My order was very nicely upgraded by CSN so that it was shipped sooner than expected.
It arrived, by FEDEX in what I felt was a timely manner.
I was SO excited when I came home one evening to find a rather large box waiting for me from CSN Stores!
The hamper is foldable, so to set it up all I had to do was take it out of the box and the plastic wrapping and fold it into place.
It's two sided, and the bottoms of each side are closed with a zipper!
At first I was like, "GREAT two holes in the bottom isn't going to be good..."
But they zipped shut upon further inspection!
This is where our laundry was calling home before the nice, new hamper...
Classy, right?! *rolls eyes*
See why we needed a hamper!?! With a closing lid?
This is how the area looks now with the lovely, dirty clothes hiding, hamper! :)
HUGE improvement, right!!
That laundry basket was relocated to where it actually belongs... In the laundry room.
The hamper, as I mentioned earlier is two sided...
Perfect for sorting clothes as they go in!
Saves lots of sorting time when actually doing laundry!
READY FOR THE HONEY DO TIP...
A two sided laundry hamper helps get the hubs-to-be to actually sort his clothes, as well!
A HUGE added bonus!
We use one side for whites, one sides for darks. You could use one for jeans, one for unmentionables... Up to you! :)
As you can see the lid velcros shut once the clothes are in, keeping them out of sight AND smell in the case of somebody's stinky socks... Not naming any names... ;)
Once closed the top also doubles as a nice work surface for sorting through CLEAN socks!! Another added bonus!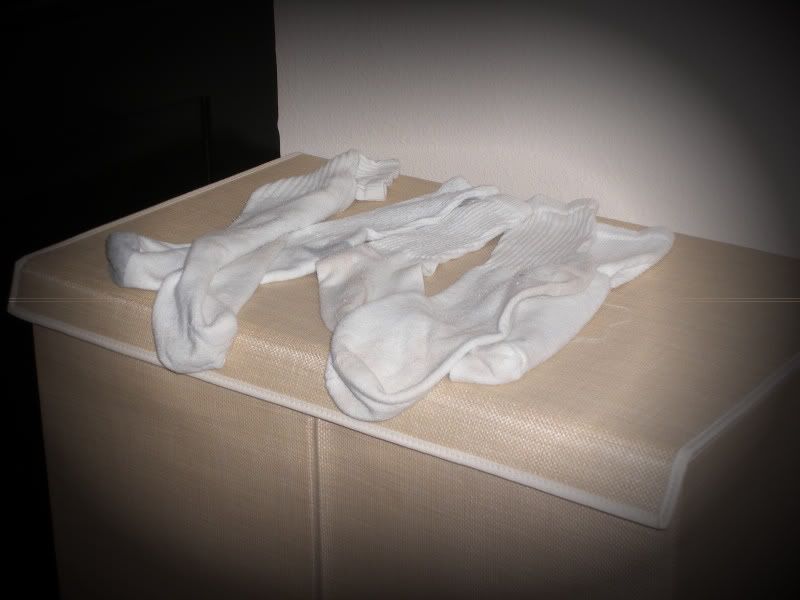 The only downside to the hamper that I can find so far is that it's a little plain...
Just a plain cream colored hamper... But it easily fits in with most decor and could, with a little craftiness be fancied up a bit!! *wink wink*
Thanks to CSN Stores for allowing me to review an item for them!
Overall I am completely pleased with my new hamper!
If you haven't already, go check them out friends!!
*I was not monetarily compensated by CSN Stores for this Review.
The opinion is my own, honest viewpoint.
The only items received was the actual hamper.